More than 28,000 schoolchildren from all around the region have toured Crystal Bridges Museum of American Art in Bentonville, Arkansas, since it opened less than two years ago. Schoolchildren are able to take a field trip to the museum at no cost, thanks to a generous endowment from the Willard and Pat Walker Charitable Foundation, which reimburses schools for out-of-pocket expenses such as buses and substitute teachers, and even provides a healthy lunch for all participants.
Crystal Bridges Museum of American Art; photo by Stephen Ironside.
No one would dispute the cultural enrichment that such a visit affords these children, but until recently, the educational benefits of a school visit to an art museum were often unquantifiable. There was plenty of anecdotal evidence of benefit, but no empirical data to prove what those of us in cultural institutions believed was true. Recently, however, a groundbreaking study has changed all that.
Located in an area of the country where students had not previously had access to an art museum, Crystal Bridges provided an unprecedented opportunity for a controlled study on the effects of a one-time visit to an art museum on K-12 students. As schools throughout the region were clamoring to schedule visits, there were far more groups wanting to attend the museum than the museum staff could accommodate in the first year, making for a natural control group.
Recognizing this opportunity, the museum and the University of Arkansas College of Education and Health Professions worked together on a massive study. Over the next year, the researchers would survey nearly 11,000 K-12 students & 489 teachers at 123 different schools, making this the largest study of its kind ever conducted.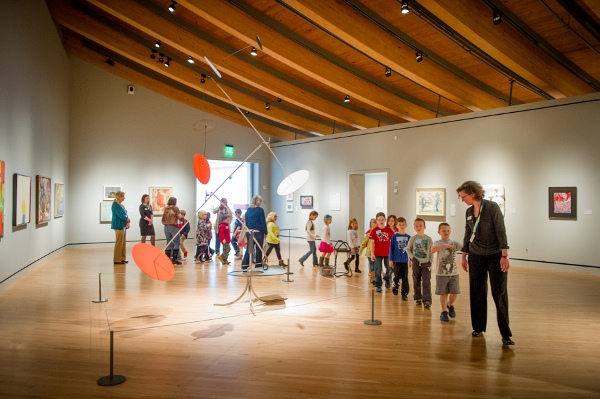 Crystal Bridges Museum of American Art 20th Century Gallery; photo by Stephen Ironside.
The results were nothing short of game changing. As reported in a current article in the journal
Kerry James Marshall's "Our Town", 1995 acrylic and collage on canvas. Photo by Stephen Ironside.
Additionally, the study found that those students who had been to the museum as part of a school field trip were much more likely to return and bring along their families, demonstrating how a one-time museum visit can increase appreciation for art and likelihood of becoming art consumers in the future.
The implications of these findings are far-reaching and of vital importance, both to educators and to museums across the country. In times of economic hardship, cultural field trips are often among the first items cut from school budgets. With the support of such large-scale and powerful evidence, schools may be able to build a much stronger case, not only for out-of-school experiences in art museums, but for a more art-integrated cultural curriculum across all core subjects.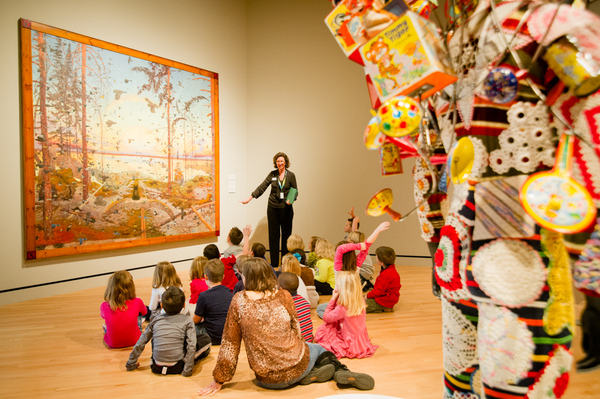 Tom Uttech's "Enassamishhinjjweian", 2009 oil on canvas, Nick Cave's Soundsuit in foreground. Photo by Stephen Ironside.
When Crystal Bridges was first announced back in 2005, there was skepticism among some that the American heartland would be able to produce a significant audience for a major museum of American art. Having surpassed one million visitors in its first 21 months of operation, Crystal Bridges has now proven that, even in Arkansas, there are audiences hungry for and appreciative of great art. With this study, Crystal Bridges has gone a step further to demonstrate that art audiences come in all ages and socio-economic levels — and that art is, without a doubt, good for you.