In selecting artists for State of the Art: Discovering American Art Now,
Why did you prefer to visit artists in their studios?
We wanted to get a sense of the artists' process, as well as to have an opportunity to view works in progress, or works that might not have been exhibited. Very soon, however, we discovered that viewing the works in the studio was a very different experience than viewing them in a gallery or museum. In a gallery, you see the work removed from the artist and the creative setting. But the texture of the space can be very rich. You can get a sense of the way the work derives from their lives. The artists tended to speak differently of the work in their studio than they would in a gallery setting, as well. In the gallery, artists have sometimes perfected a sort of "pitch" for the work. In the studio, however, they tended to share more of their ideas, of their process.
Can you make any generalizations about the types of studios you saw?
Artists will use almost any space they can find for studio space. We saw everything from pristine, clean, and organized studios with every single item in its place to studios that looked as much like hoarder spaces as working studios, and everything in between. We saw a lot of basement studios, garage and attic studios, and spare bedroom studios. These spaces were interesting because you're walking into the artists lives. We met a lot of children, a lot of pets. Their artwork and their daily lives are thoroughly entwined. They'll work anywhere there is space and light. We visited one artist who was living and working in this very small apartment in a very dodgy neighborhood who told us he'd taken the apartment just for the light.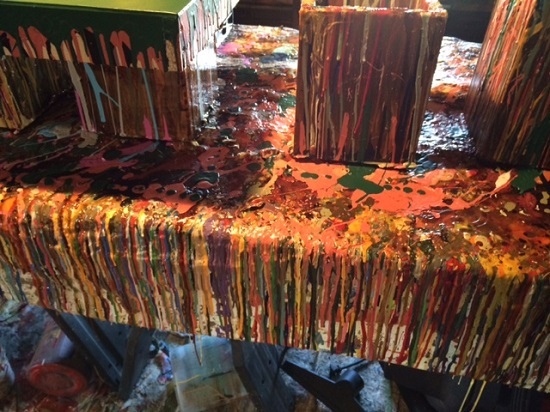 Did you see any unexpected or interesting trends?
It was interesting — in big cities, the most compelling work we found was happening outside the city center. I'm sure it has to do with the cost of real estate. In urban areas, where real estate is so high, the further we got from the city, the more interesting the work. There's a real entrepreneurialism among artists, too, a real determination to find space. We saw artists sharing space in all kinds of repurposed buildings: an empty furniture store, an old drugstore, a former goat farm. Many artists will come together to make joint use of a large space, often with an unintended benefit to the community. In Jacksonville, an artist approached a local developer to turn some unused warehouse space into studios. It has become a kind of community arts center, and has now expanded. We often saw this sort of economic and social benefit developing as a by-product of the artist community.
State of the Art: Discovering American Art Now will feature the work of 100 artists from across the US. The exhibition opens at Crystal Bridges Museum of American Art in Bentonville, Arkansas, on September 13, 2014.
State of the Art is sponsored by the Willard and Pat Walker Charitable Foundation, Christie's, Coca-Cola, Goldman Sachs, L'Oréal Paris, Tyson Foods, Inc. and John Tyson, 21c Museum Hotels, and Crystal Bridges' Global Initiative Fund and Art Now Fund. Exhibition admission is sponsored by Walmart and Sam's Club.